Discographie
Renaissance-Illusion



Renaissance-Illusion est le nom de groupe qu'ont pris les quatre membres fondateurs survivants de Renaissance, Jim McCarty (qui se fait appeler ici James McCarty), John Hawken, Jane Relf et Louis Cennamo quand ils se sont réunis pour sortir un album en 2001.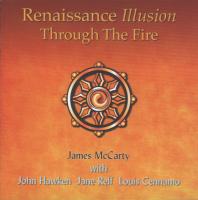 Through the Fire (2001; 1er album studio)

(1) One More Turn of the Wheel (McCarty)
(2) Good Heart (McCarty)
(3) Glorious One (McCarty)
(4) Through the Fire (McCarty)
(5) Blowing Away (McCarty)
(6) Mystery of Being (McCarty)
(7) Beat of the Earth (McCarty)
(8) Beyond the Day (McCarty)
(9) My Old Friend (McCarty)
(10) Through the Fire (reprise) (McCarty)

Jim McCarty : chant, batterie et percussions
John Hawken : piano et claviers
Jane Relf : chant
Louis Cennamo : basse

Musiciens additionnels :

John Idan : guitare acoustique
Ravi : percussions
Jackie Rawe : chant
Mandy Bell : chant
Emily Burridge : violoncelle
Dzal Martin : guitare acoustique
Gary Le Port : guitare acoustique
Jonathan Digby : guitare acoustique
Danny Relf : programmation des claviers
Ron Korb : chant et flûte
La suite de l'histoire

En octobre 2001, soit un mois après la sortie de Through the Fire, l'"autre" Renaissance, celui de Dunford, Haslam, Tout et Sullivan, sortira son album Tuscany en Europe (il était déjà sorti en l'an 2000 mais uniquement au Japon).

Jim McCarty poursuivra sa carrière parallèle avec les Yardbirds, qui tourneront abondamment et sortiront un nouvel album studio, Birdland, en 2003.

John Hawken rejoindra les Strawbs pour une tournée nord-américaine, dont témoignera l'album Live at NEARfest 2004.