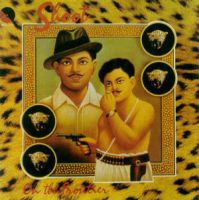 On the Frontier (1973; unique album studio)
<!http://www.answers.com/topic/on-the-frontier>

(1) Neon Life (McCarty)
(2) Ships and Sails (McCarty)
(3) Living Blind (McCarty)
(4) On the Frontier (McCarty / Thatcher)
(5) Boogie (McCarty)
(6) Midnight Train (McCarty / Greene)
(7) Head Under Water (Greene)
(8) Sepia Sister (McCarty)
(9) Old Time Religion (McCarty)
(10) Mean Customer (McCarty / Greene)

Jim McCarty : chant, percussions, claviers
David Greene : chant, guitare, banjo
Bill Russell : basse
Craig Collinge : batterie, percussions
B.J. Cole : steel guitar, dobro
John Tout : piano sur (9)
Lyn Dobson : cor
Bob Birtles : cor
Graham Preskett : violon

Cet album a été produit par Ian McLintock avec les ingénieurs Geoff Emerick, Alan Harris et John Lecky.

Cet album n'a jamais été réédité en CD.
La suite de l'histoire

La chanson-titre "On the Frontier" sera reprise par Renaissance, que Jim McCarty a définitivement quitté, sur l'album Ashes Are Burning en 1973. En 1977, Jim McCarty fondera Illusion. Les deux albums de ce groupe seront réunis sur la compilation The Island Recordings.